Dorothea Tanning
(1910-2012)
Frontispiece (for Clos Camardon)
lithograph printed in strong red and black, 1985
edition of 152: 120 published in book on lightweight Rives, signed and numbered only on justification page, including 15 lettered A-O; 16 on lightweight Rives with additional pale yellow background color, signed and numbered 1-16; 8 on lightweight Rives pasted onto Arches, signed and numbered 1-8; 8 on Nideggen pasted onto Arches, signed and numbered 1-8; and an unspecified number of proofs including 4 signed trial proofs and 7 signed color trial proofs on various papers and 1 signed trial proof and 1 signed color trial proof on Nideggen
plate size 10 15/16" x 7½" (27.8 x 19 cm.)
printed by Maurice Sanchez assisted by Donna Shulman and Jamie Miller at Derriere L'Etoile, New York
Literature: Dorothea Tanning: Hail, Delirium!, New York Public Library, 1992, catalog no.56, pp.75, 103
Back in New York an irresistible invitation: to make a frontispiece for an admired poet. For these superb poems nothing I could do seemed good enough. Yet I remembered a French leaf. . .
-Dorothea Tanning,
Hail, Delirium!
, 1992, catalog raisonne
The mystic indeterminacy - the creation of a zone of pure flux, a groundlessness that seems a ground in itself - continues into the 1980s, ever-fresh Tanning reinventing it as a new miracle of chance. The frontispiece of
Clos Camardon
(1985; cat.56) in which the leaf sets off the strangely figual action...[is a]...magnificent example.
-Donald Kuspit,
The Amorphousness of Being Other: Dorothea Tanning's Prints
,
Hail Delirium
, catalog raisonne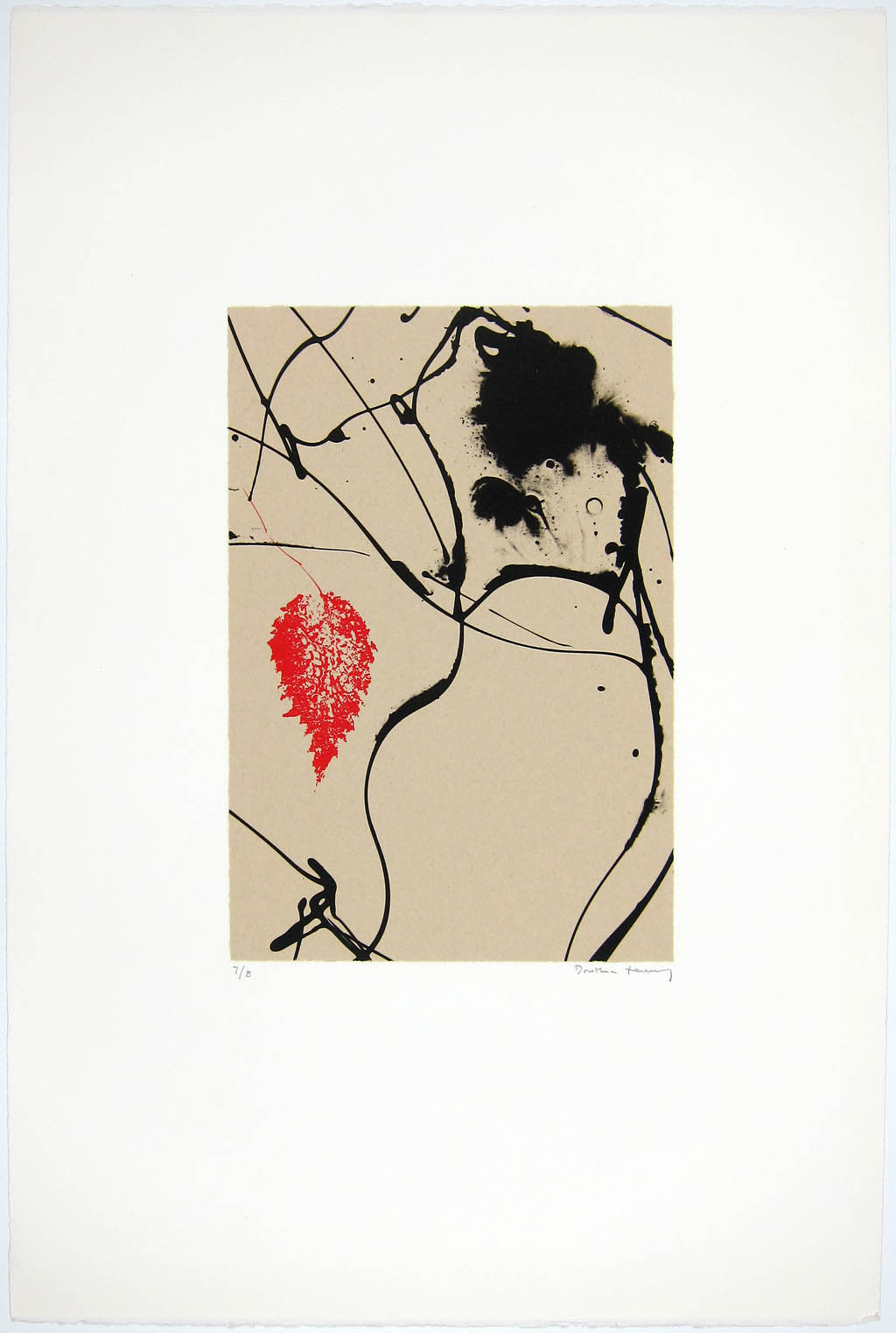 enlarge in new window