Dorothea Tanning
(1910-2012)
Cover for Accueil
etching and soft-ground etching printed in deep reddish orange and gold, 1958
edition of 60 on BFK Rives, signed and numbered only on justification page: 50 numbered 1-50; 10 hors commerce numbered I-X and an unspecified number of proofs including 5 signed artist's proofs numbered EA1-EA5 on Arches before letterpress, 1 signed artist's proof on BFK Rives before letterpress and 5 signed artist's proofs on BFK Rives with letterpress
plate size 3¼" x 2 7/16" (7.9 x 5.8 cm.)
printed by George Visat, Paris
Literature: Dorothea Tanning: Hail, Delirium!, New York Public Library, 1992, catalog no.9I, pp.26, 90
Paris editors liked to find unpublished texts by admired poets and bring them out with handsome illustrations, handsome typefaces, handsome paper.
Accueil (The Welcome)
is one of these. It was voted the plus beau livre (the most beautiful book) of the year by the bibliophiles' book club. But my work was only a part of this model of design, typeface, paper, presentation...and the distinguished prose poetry of its author, a memorable surrealist [Rene Crevel]. A reasonable fidelity to the poet's subject and to his persona has always been my goal in these collaborations.
-Dorothea Tanning,
Hail, Delirium!
, 1992, catalog raisonne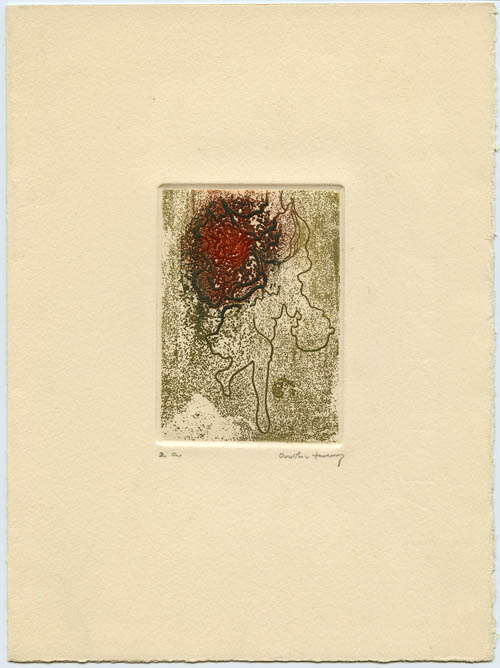 enlarge in new window